FRAME + MANHOLE COVER B125 52*52*30
FRAME + MANHOLE COVER B125 52*52*30
DIMENSIONS
Code
Class
Closing

A x B

Ext. frame

C x D

Ext. cover

P x P1

Clear opening

H

Height

Weight KG
FCB50
12.5 t
NO
525 x 525
480 x 480
435 x 435
35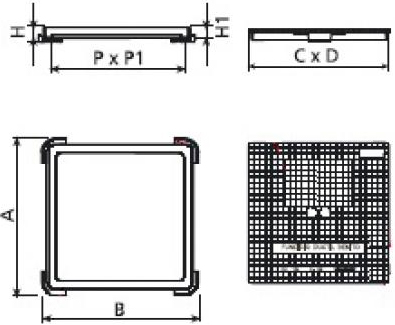 Specifications
Type - ductile iron manhole cover, strewing metal surface. Available in a version with fasteners.
Class of Service - B125 12.5 tonnes permissible minimum resistance according to EN 124-1993.
Material - ductile iron ( high elasticity limit, important elongation, shock resistance, traction resistance ).
Site area - sidewalks, pedestrian zones, and parking spaces storey car stationary.
Applications - distribution channels, drainage networks, pumping stations and water treatment.
Products contained in the Technical Agreement 003-05 / 238-2013.
Pret:
299.90 lei
450.99 lei