GRATE C250 53*32*37 11,25 KG
GRATE C250 53*32*37 11,25 KG
DIMENSIONS
Code
Class
Closing
Gasket

A x B

Ext.lenght

C x D

Cover dimensions

P x P

Clear opening

H

Height

Weight KG
FGC40
25 t
HINGE
NO
540 x 315
458 x 236
430 x 200
40
11,25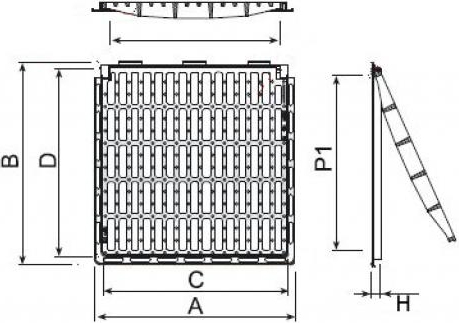 Specifications
Type - rectangular hinged grate, bolt locking system, anti-slip surface.
Class of Service - C250 minimum 25 tons resistance according to EN 124-1993.
Material - nodular cast iron EN GJS 400-15 in accordance with ISO 1083 standard EN 1563 / A1.
The site - access roads and traffic, stabilized shoulders and space stationary road vehicles, medium traffic.
Applications - distribution channels, drainage networks, pumping stations and water treatment.
Products contained in the Technical Agreement 003-05 / 238-2013.
Pret:
299.90 lei
450.99 lei