MANHOLE COVER B125 700*35 WITH LOCK
MANHOLE COVER B125 700*35 WITH LOCK
DIMENSIONS
Code
Class
Closeing
Gasket

Φ A

Ext.diam

Φ C

Cover diam.

Φ P

Clear opening

H

Height

Weight KG
FCB700INCH
12.5 t
YES
YES
Φ 705
Φ 580
Φ 550
50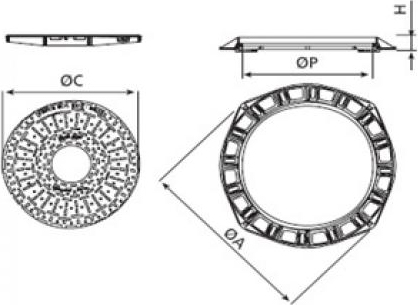 Specifications
Type - round hinged manhole cover, locking system, fasteners, devices, allows a 130 degree opening, strewing metal surface.Metal frame provided with a combination of soundproof rubber gasket.
Class of Service - B125 , 12.5 tonnes permissible minimum resistance according to EN 124-1993.
Material - nodular cast iron EN GJS 400-15 in accordance with ISO 1083 standard EN 1563 / A1.
-Site area : sidewalks,pedestrian zones, and parking spaces storey car stationary.
Applications - distribution channels, drainage networks, pumping stations and water treatment.
Products contained in the Technical Agreement 003-05 / 238-2013.
Pret:
299.90 lei
450.99 lei